2023 Minnesota Legislative Summary
A lot has been said about and written about the 2023 Minnesota Legislative session. From national accolades about what was passed into law to claims of 'historical' and 'transformational' legislation, Minnesota's elected officials should be recognized for their ambitious agenda.
As you know, the North Central States Regional Council of Carpenters (NCSRCC) focuses on carpenter economics, the idea that we fight for jobs and fair labor standards in our industry. We are a collective voice for pocketbook issues that impact our members and potential future members.
I want to thank the government affairs team, the communications team, the legal and organizing departments, and especially all the members who stepped up and made their voices heard this spring. We owe all our accomplishments to years of educating candidates and elected officials about our issues. We are proud of all that was achieved in support of jobs for members, labor standards, and support for working families.
Adam Duininck
NCSRCC Government Affairs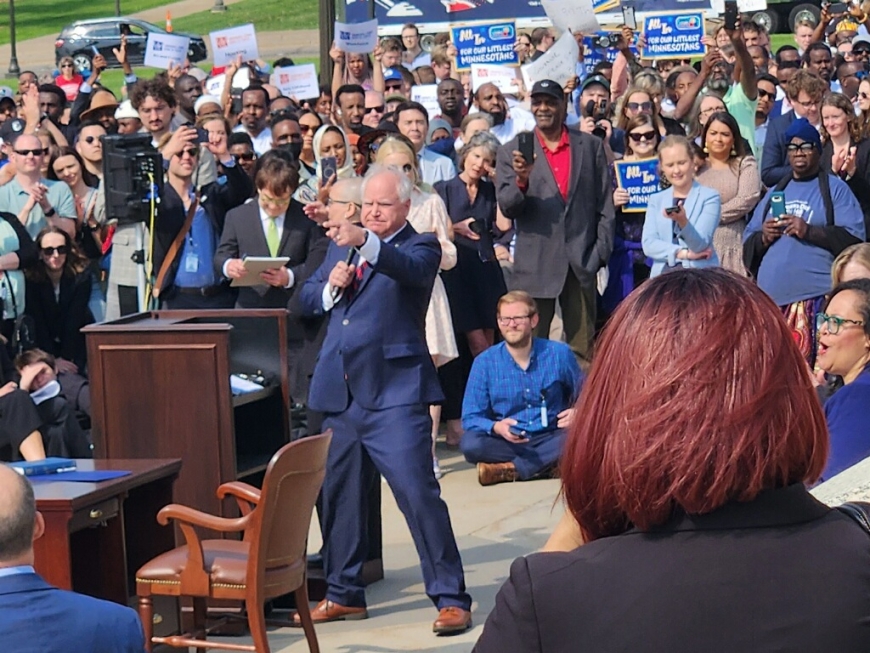 Jobs and Labor standards
The Regional Council's top legislative priority in Minnesota was the Construction Worker Wage Protection Act, a bill that will make general contractors and developers responsible for wage and hour violations on their jobsites. It is an extension of our work on wage theft with a design to deter generals from hiring unscrupulous sub-contractors.
This issue moved through the House and Senate with a lot of support. While we were opposed by groups such as the ABC, AGC, and Housing First, we never compromised with groups that were trying to stop the bill. As the bill moved through committee, we gained support and built a broader coalition while the opponents' arguments did not move lawmakers to their position. We believed that the opposition was only seeking to water down the bill to render it meaningless, rather than taking the issue of wage theft seriously as a systematic problem in construction.
Another important labor standard policy is prevailing wage. I am pleased to report that prevailing wage was enhanced significantly this session across several bills and funds. We viewed the issue as an opportunity to close some loopholes in the law where prevailing wage should have been applied. From DEED grants to Renewable Development Fund to new energy projects, we were able to pass these bills with bipartisan support. We made one concession in residential which was a good policy move to make.
The omnibus labor and jobs bill also includes: $4.1 million for wage theft prevention, $3.2 million for prevailing wage enforcement, $2 million in labor education advancement grant program for women and people of color to connect with apprenticeships, $450,000 for Helmets to Hardhats, as well as additional resources to the Attorney General for wage theft and consumer protection. The same bill made OSHA citations public which will allow us to monitor job sites where contractors are cutting corners on safety. Another bill that passed was policy we worked on with the Elevator Constructors around the definitions of conveyors, dock levelers, and platform lifts.
The Labor bill was coupled with workforce and jobs/economic development finance and policy which had some significant wins for us as well. The biggest increase was the creation of the Minnesota Forward Fund. This fund was awarded $500 million for economic competitiveness to match federal dollars and private investment. There is $100 million for CalSpan and BioMade which are two mega projects in the works that have been awarded significant federal appropriations. There is an additional $250 million available for CHIPs projects and another $75 million for the state's Competitiveness Fund. These funds all are set up to have a compounding effect and provide many jobs in the coming years.
The Refinery Safety Bill that we advocated for in the last two years was passed and became law. The apprenticeship requirements mirror the state of California's bill and have a similar phase-in timeline. We also worked on language that would protect our members who are working at the refinery but did not come through our apprenticeship program. They will be required to take ongoing safety enhancement classes.
Energy and Environment
The Regional Council supported the early bill to move Minnesota toward becoming 100 percent carbon free, which allowed us to help our utility partners and secured prevailing wage on renewable energy projects.
We supported and passed $15 million in funds to support the HVDC modernization transmission line project for northern Minnesota and were pleased to see an agreement come together around the 20-year extension for the Xcel Energy and Prairie Island nuclear facility. We gained prevailing wage on funds like the Renewable Development Fund and community solar and were also able to make bad policy better on issues like intervenor comp and cumulative impacts working with other trades.
Housing
The Housing Finance bill includes $200 million in one-time funds for Housing Infrastructure Bonds. That is the benefit of the surplus and the energy around Housing at the Capitol. The long-term prospects are also promising with the legislature passing a .25% sales tax increase in the metro area that will fund three housing accounts: Metropolitan County Aid Account, State Rent Assistance Account, and the Metropolitan City Aid Account. These new revenues could total $90-125 million annually invested in housing production. Some of the funds will be eligible for other uses, but the cities and counties will likely spend a large sum of cash or utilize the sales tax revenue for financing new housing construction.
Transportation
The transportation finance and policy bill was one of the more challenging issues this year at the capitol. The adage was truer than ever that everyone agrees we need to build new roads, bridges, transit, and infrastructure, but nobody agrees on how to pay for it. In the end, the revenue to pay for transportation ended up coming in multiple forms: a 50-cent delivery fee on deliveries over $100, indexing the gas tax to inflation, increasing the metro-wide sales tax by .75 percent to fund mostly transit improvements. Unlike the rest of the state budget, in recent years, the transportation funds have been going down while demonstrating the need to be increased to meet future spending needs.
On the spending side, the bill authorizes over $8.8 billion for MnDOT and the Department of Public Safety, over $1.4 billion more than was forecast coming into the session. The transportation finance bill also authorizes $600 million in trunk highway bonds. Of the $600 million, $200 million will go to state road construction, $166.15 million to named projects, and $145 million for the Corridors of Commerce program. It will also fund the Northern Lights Express to Duluth in the amount of $194.7 million, $50 million for the Blue Line extension to northwestern Hennepin County, as well as several other regionally significant projects. Lastly, all the resources being spent on transit will mean jobs today and development in the future as these corridors have seen significant economic growth in housing and job centers.
Bonding
The last bill that is usually passed to wrap-up session is a bonding bill. The slow pressure all session for the Senate to move on a bonding bill combined with some forceful local community voices and trades leaning on our Republican allies to achieve the passing of first bonding bill since 2020. Not having a bonding bill for three years also added to all the community demands for projects.
There were two bills, a GO bonding bill that totals $1.5 billion and a cash bill that brings the total to $2.6 billion. These projects are all over the state including wastewater treatment, roads, bridges, higher education upkeep, state buildings, and community supported projects.
Some of the highlights include: $381.1 million for Public Facilities Authority for wastewater projects, $326.3 million for MnDOT including $146 million for local roads and bridges, $233.1 million for DNR including asset preservation, buildings, and flood mitigation, $108.6 million for the Met Council including $72 million for Bus Rapid Transit projects, $90 million for Department of Veterans Affairs including $77.8 million for Hastings Veterans campus. The University of Minnesota would receive $136 million, including $92.6 million to renovate Fraser Hall into an undergraduate chemistry building and $43.35 million in asset preservation. Minnesota State would receive $134.7 million: $90 million for renovations and upgrades at 13 campuses and $44.7 million for asset preservation.
Miscellaneous
MnDOT appropriated over $300 million for roads and bridges funding in February which allowed the agency to plan and program more funds for this construction season. This was not met with a lot of fanfare, but if we had divided government, it would have been a heavier lift to match federal Infrastructure Investment and Jobs Act (IIJA) funds.
The Historic Rehabilitation Tax Credit is a program that we have seen create thousands of jobs and impact tens of millions of dollars in development across the state. This program was not renewed last year when a tax bill failed to pass. This year's bill includes an eight-year extension which will give the market and developers the certainty they need to finalize more projects.
A labor trafficking policy bill passed unanimously through the House and Senate with the support of County Attorney Association and the Advocates for Human Rights. This bill brought the definition of labor trafficking more in line with sex trafficking because of a Hennepin County case that did not have much precedent for sentencing.
With regards to rent control/rent stabilization in housing policy bills, we were successful in making sure there was no loosening of the local policies nor the embrace of rent control for the Minnesota Housing Finance Agency. As we have seen rent control/rent stabilization have a detrimental effect in St. Paul, we remain aggressively opposed to these policies spreading without addressing the real underlying issue with housing costs which is supply.
Paid Family Medical Leave was another huge accomplishment for working families this session and we supported it and provided feedback to how it will impact construction. We will remain engaged with Minnesota Department of Employment and economic Development about how to build the program especially around independent contractors who will be exempt. This wage replacement benefit is good for workers, good for businesses, and good for families and babies. We have heard from younger apprentices and members that this sort of time-off is essential for our industry and we were glad to help pass this bill.