Carpenters build prefabricated and self- sufficient critical care units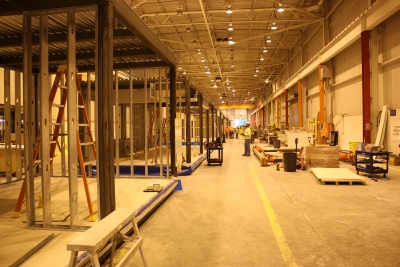 With 14 offices throughout the United States and a home base in Appleton, Wisconsin, Boldt Construction has a strong reputation for hiring union contractors to build healthcare facilities. They have specialized in hospitals, clinics and wellness centers for more than five decades. Now, carpenters working for Boldt have stepped into the future by using their knowledge and experience to build prefabricated and self-sufficient critical care units. These units are unique and comply with CDC recommendations for infectious patients and airborne infection isolation rooms.
"The baseline knowledge and experience level of the carpenters is as high as I've seen anywhere in the country," said Zach Lauria, Director of Self-Perform at Boldt Construction. "I've been impressed with the work ethic and technical competencies. They are as good as any trade I have worked with around the country." Although there are fewer hazards than a regular construction site, any new process always creates new challenges. The extensive training provided to these union carpenters has equipped them to resolve any obstacles they have encountered during this project.
By now, we are all aware of the additional healthcare needs that are the result of the COVID-19 pandemic. Inside the old Manitowoc Crane plant in Manitowoc, Wisconsin, a prefabricated 72-bed intensive care unit hospital is being built to be shipped for immediate use in Georgia. The 40,000-pound pods will be assembled to create hospital-level care for infection control and patient isolation when there is an immediate need for life-saving technology and extended quarantine.
In reference to the prefabricated healthcare facilities, Lauria said, "Boldt has been working on it for years. This came five to ten years early based on growth, the COVID-19 pandemic and having a comprehensive build space." Lauria is confident there is a legitimate need for medical building prefabrication even after COVID-19 goes away. With an ability to order larger numbers of materials, Lauria believes the process will become more cost efficient as needs expand.
The distinctive design provides ample space to provide care along with areas for patient recovery and equipment such as portable x-ray machines. Each pod is equipped to handle two patients. Pods are 15 feet wide with enough space for medical personnel to do a bed transfer while preventing patient and staff injuries during the process. Rooms also have a viewing window and a small pass through area to reduce patient contact and provide extra safety for staff. All patients are also provided a recliner to assist in moving to an upright position, moving and shortening their length of stay.
Pods can be built and shipped anywhere in the country. According to Lauria, Boldt is building a hospital with full staff and patient amenities in two and a half to three months through the prefabrication process. This process is a stark contrast to a typical construction build, which would take two and a half to three years to complete. Before a pod is shipped, the rooms are fully equipped with alarms, sprinkler systems and negative air flow. All openings are gasketed and sealed to keep contaminants out. Heat weld seams are also placed on the flooring to make them seamless.
Each pod takes only five working days to complete using an assembly line process. Fourteen pods are worked on at any given time by 40 employees working two shifts. Then, they are sided and shrink wrapped for shipment. The pods are picked up by a gantry crane, a crane structure used to straddle and lift the 20-ton pod, before being placed on a truck for shipping.
Once the pods arrive at their destination in Georgia, Boldt employees will assemble the pods and connect them leaving a two-inch expansion joint between each unit. As a result of the consistent design between pods for patient rooms, common areas and utility space, units can be stacked and assembled to create a multi-level, self-sufficient facility.
Entering this new era of building modular medical buildings can present some challenges. Once the industry understands the ability to build something like a 72-bed prefabricated intensive care hospital at such a significant savings of time and money, the demands will certainly increase. While carpenters are taking the next step into the future by constructing the prefabricated pods, they will be the last ones on the site ensuring the facility can be occupied by the patients who need it most.