Carpenters Protect Fargo from Floods
In 1997, a rapid melting of 98.6 inches of snow resulted in a devastating flood for communities along the Red River in Minnesota, North Dakota and Southern Manitoba. In response, leaders in Cass County, North Dakota initiated a study to permanently resolve the ongoing flood threat to residents along the Red River. Following a 10-year planning and permitting process the Fargo-Moorhead Metropolitan Area Flood Risk Management Project was created in 2017. Currently, union carpenters, piledrivers and millwrights with Ames Construction are working on the flood diversion construction with hopes of completing two major portions of the $2.75 billion project in the summer of 2023. This work will protect more than 235,000 people from potentially catastrophic flooding.
Many elements factor into whether the Red River Valley will flood in any particular year. The soil moisture, spring rain, frost depth and a northern-flowing river contribute to the threat of flooding to surrounding communities. However, substantial progress has been made to protect the residents in the Fargo-Moorhead area, but there remain gaps in the line of protection. The Fargo-Moorhead Metro area cannot achieve accredited 100-year flood protection with current embankment and floodwalls alone.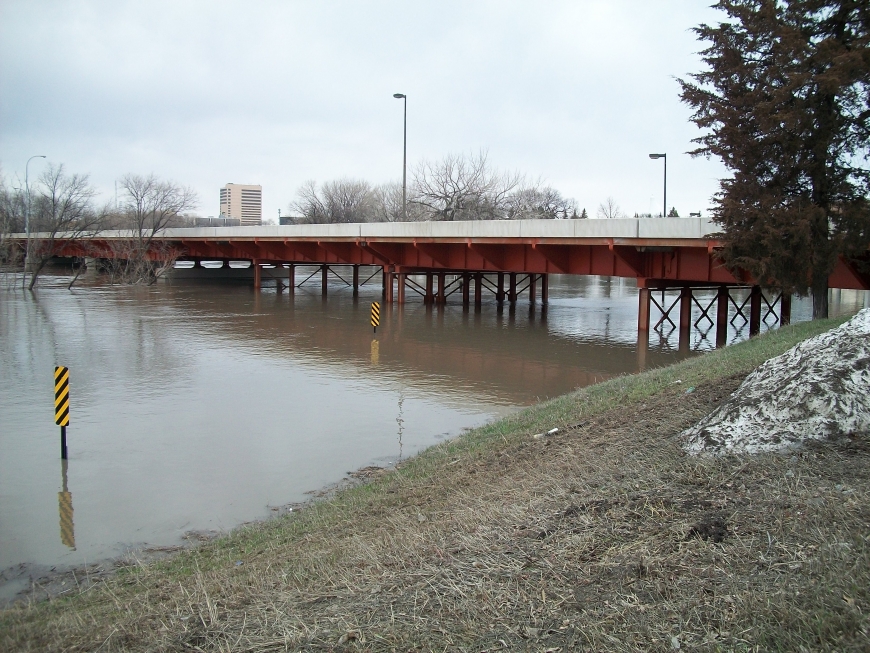 This project will now include a 30-mile-long diversion channel, 20 miles of earthen embankment, 19 highway bridges, four railroad bridges, three river control structures and two culvert structures. This plan focuses on mitigation efforts for a 26,600-acre area where water can temporarily be stored and controlled during extreme flooding.
Ames Construction has been awarded two contracts relative to the project. They are building the $46 million diversion inlet with three gates that will redirect water from the river. The gates at the inlet protect metro areas by ensuring they do not receive any more than they would during the time of a 100-year flood. The additional water will be diverted before re-entering the Red River. Ames Construction will also build the $59 million Wild Rice River control structure. The control structure will regulate water flow on the river during times of extreme flooding by triggering the temporary storage of water upstream to prevent downstream impacts.
The scope of these flood diversion projects is massive. The inlet includes three 50-foot-wide radial arm gates. Over 11,700 cubic yards of concrete, 1,000 tons of rebar, 10.5 miles of steel beams and 27,500 square feet of sheet pile will be used. Between the two projects, Ames employs 19 carpenters and a combination of 12 piledrivers and millwrights. The entire flood diversion build has a projected completion date of spring of 2027.
 
Ames Construction has signed a unique project labor agreement with the North Central States Regional Council of Carpenters providing union labor in North Dakota for this flood diversion project. Ben Herden, Area Project Manager from Ames said, "It has been a good experience. I enjoy working with people who are here for a career and not just a job. I prefer to have highly-skilled, highly-trained workers."