CentraCare's New Patient Safety Partnership
A new agreement that helps maintain and ensure safety of patients, visitors and staff members in unique settings.
CentraCare Facilities and Infection Prevention & Control entered a Patient Safety Partnership with the North Central States Regional Council of Carpenters (NCSRCC) that helps ensure not only the well-being of those CentraCare cares for, but for those they work alongside.
Health care facilities are unique work environments compared to other maintenance or construction job sites. Patients, visitors, and staff members often remain in CentraCare facilities during construction, renovations, and/or maintenance projects, which requires an increase awareness of infection control protocols. 
The new agreement requires construction workers and contractors to complete an Infection Control Risk Assessment (ICRA) course no less than 24 hours before performing work at one of our facilities. In August 2022, CentraCare's on Infection Preventionists (IPs) and Maintenance staff members also completed the course - making sure everyone is on the same page in the name of safety.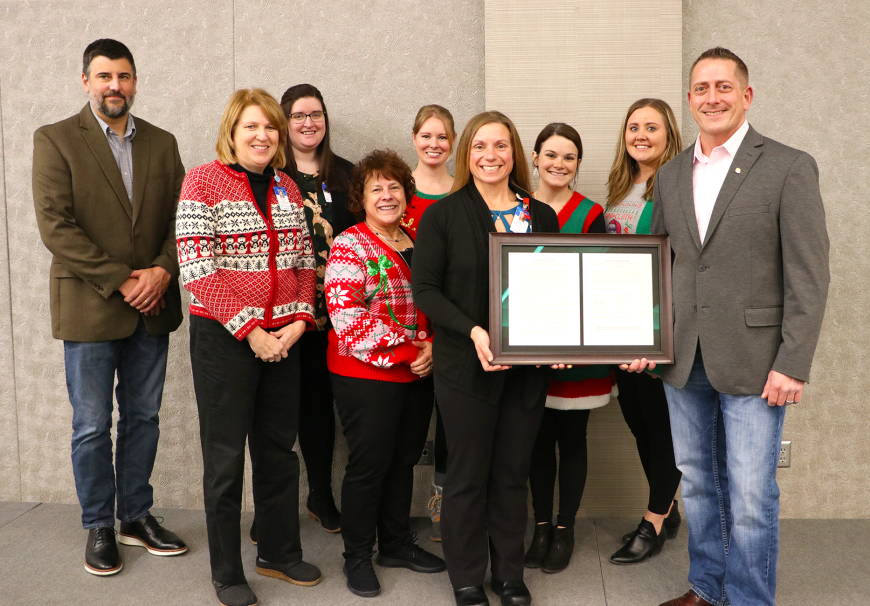 Pictured above is Patricia Dumonceaux, MSN, RN, Infection Preventionist Lead, along with members of CentraCare's Infection Prevention and Control department, being presented with the certificate from Jayson Karas, ICRA Director, at CentraCare South Point on Monday, December 12, 2022.
"With CentraCare's strategic commitment to Safer Together, this partnership supports and helps us uphold appropriate safety and precaution principles with construction, renovation, maintenance, and IS&T projects," said Ellen Simonson, RN, Director of Infection Prevention and Control. "I'm proud to have us commit to this partnership with NCSRCC and to have resources and tools available for our CentraCare teams."
"CentraCare, a pillar within many communities throughout central Minnesota, has been a leader in education and training to help ensure the safety of their patients, staff, and visitors," said Jayson Karas, ICRA Director. "This Patient Safety Partnership sets a bar for personnel performing construction maintenance, and renovation projects to be properly trained before performing any of these activities."