Update from TEAM Wellness at Work
March 17, 2020
Clients of TEAM,
With the concerns of the spread of COVID-19, we have decided that it would be best to provide all of our clients with the most up to date plan that we have in place during the current health crisis we are experiencing.  The Minnesota Department of Health, along with the Centers for Disease Control and World Health Organization, have been closely monitoring the situation worldwide and locally and have been providing us with recommendations about prevention and containment of this virus. For all of us, this begins at home and filters into the workplace.  Providing precautions to assist in keeping our staff and clients healthy and safe is a priority for TEAM. 
We have implemented a plan for our staff who have been traveling, had exposure to, or who may have symptoms of COVID-19.  Staff members will be encouraged to work remotely if possible, in the event of potential infection or exposure.  With our current plan in place, this should not impact any of the services your organization is receiving. 
The leadership at TEAM has implemented a mitigation plan for the remainder of March.  Based on the progression of the situation, this plan may need to be updated, modified, or even extended to help protect our staff and clients from potential risk. We will make these modifications with the guidance of MDH and the CDC and will be closely monitoring communication from these organizations for any changes needed on a daily basis.
TEAM will continue to provide the same dedicated care with some temporary modifications.  We will encourage the conversion of existing face to face appointments to Teleconference or Zoom video conference visits through the end of March.  This will continue to be evaluated as the situation changes.  For any and all clients that are unable to join remotely and require a face to face visit during this critical time, we will work with your organization to assess the situation and recommend the approach that provides the safest environment for all parties involved. 
TEAM will continue to respond to all Critical Incident occurrences with the same personal approach and response as is customary for TEAM and will not be changed or altered during this crisis. Please continue to reach out and expect an in-person CIR response from TEAM in the event that an incident occurs.
For those clients that utilize our Patient Advocacy services, we will be offering the same excellent care by Teleconference and Zoom video conferencing.  All of the service inquiries will be triaged appropriately by our trained staff who can assist in guiding participants in the best direction.
We encourage all of you to stay up to date with the latest information by going to the Minnesota Department of Health, Centers for Disease Control and World Health Organization Web Sites.  The links have been provided in this letter.  If you have additional health practice inquiries or clarifying questions regarding Covid-19, please call our Patient Advocacy team for additional information.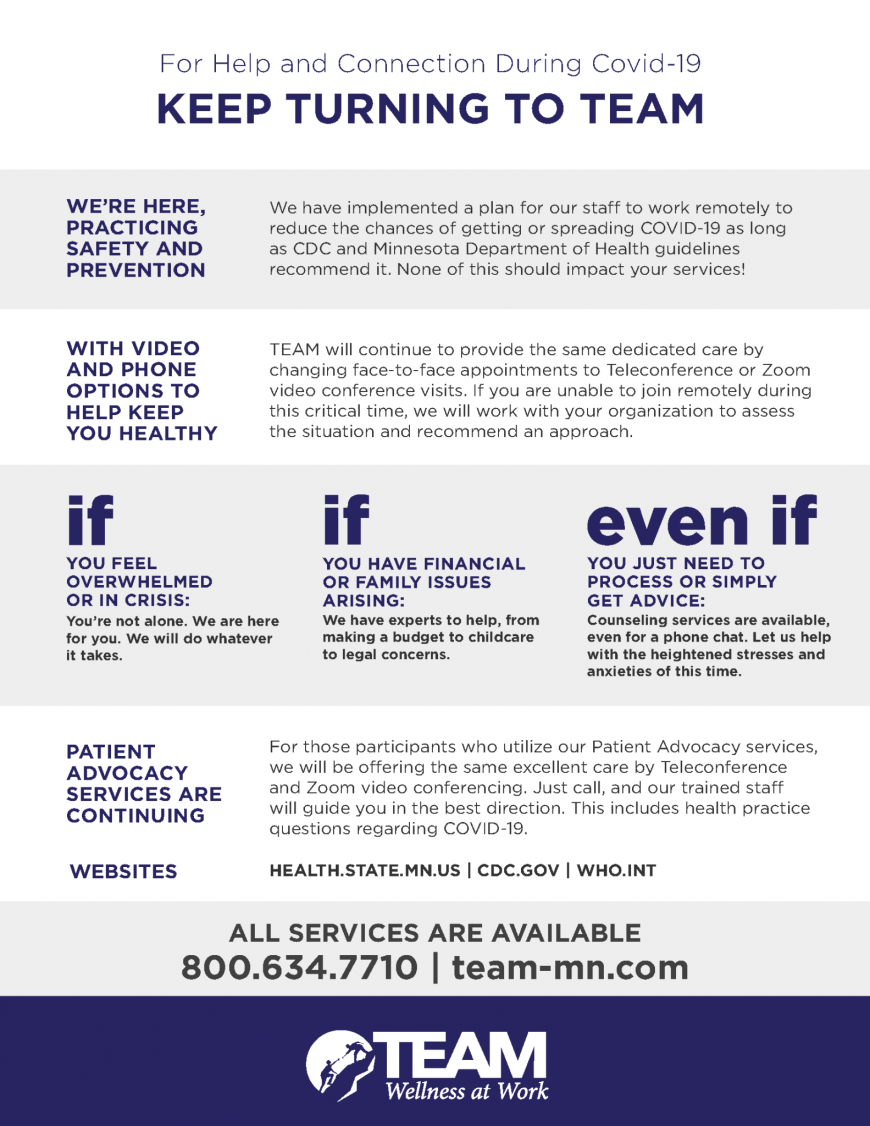 As always, if you have any questions or concerns in regards to this or any of our policies, please contact us.
Our Best,
Jennifer Stanek MS, PA-C
Clinical Director TEAM
Work cell: 952-529-1270
jstanek@team-mn.com
Trent Williams
Executive Director TEAM
Direct: 651-204-4023
twilliams@team-mn.com